We always keep you up to date with the latest job offers!
News and current articles
This complete system consists of 2 GFM radial forging machines, a double-sided end machining machine and a double-sided simultaneous gear drawing machine – for maximum flexibility and short changeover times.
Are you interested in a new and exciting challenge?
As a stable company that has been family-run for 3 generations, we can offer you a crisis-proof and very interesting job.
We look forward to receiving your application!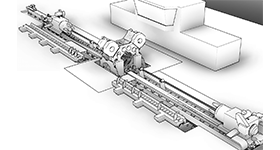 Another well-known customer from China decided to buy a large machine from our RF product line. The RF-40 is suitable for forging carbon steels, tool steels, stainless steels of all kinds, as well as special materials such as titanium, zirconium and various Ni-base and Co-base alloys. Round, square and flat bars as well stepped parts and tubes can be forged.
Radial Forging Machines / Reshape
Cutting / profiling / automation